King of Content
White & Associates provides content and apps to printers.
We provide top printers world wide with a newsletter service to keep it touch with your email list. 150+ articles added to your website. Great apps you can brand and use to extend your own offerings. Inbound, outbound, SEO-optimized, ready-to-tweet, affordable content built for your brand and ready to roll.
Content is king. Why not be the king of content? Call 617.848.2626 or email pwhite@wadigital.com
Great Tools
Gender Finder appends the gender of each contact in your list, based on Census data. DEMO
Name Splitter takes a full-name field and splits it into two names for personalization purposes.
Free Email Code Checker helps you identify problem coding for broadcast email.
Free Test List Calculator helps you figure out test list sample sizes, i.e. how many contacts you need to test direct marketing options.


Marketing for Printers

Browse our on-line catalog of postcards, newsletters and guidebooks all in high-res format.

Commercial Printer Knowledge Base: Hundreds of articles accessed from your site with your brand.

Commercial Printer ePrintTips Email Newsletter Service: Our turn-key broadcast email solution for print sales to stay in touch with customers and prospects, with secure log-in for each of your sales rep.

Print Broker Web Site: Turn-key and ready-to-go.

Print Broker FYI Email Newsletter Service: Our turn-key broadcast email for small shops and brokers.



Free Folding Wizard with an option to host it from your Web site.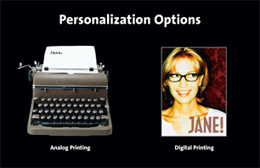 Other Services
Broadcast Email. We can help you create and deliver communication that delivers your message to your list quickly and effectively.
Facebook Advertising and Forms. We can help you target your market and develop your creative to maximize your Facebook advertising.
Web Site Assistance. Need to create or modify a Web site? We've got lots of experience in a variety of industries.
PayPal Integration. Add the ability to sell or collect donations via PayPal to your Web site.
ASP Programming. We can help you update your Classic ASP Web site. Give us a call to discuss.
GoDaddy Database. Look to us to set up your Access or SQL Server database, or to migrate from Access to SQL Server.
Print Design. From business cards to brochures to catalogs, we'll create and produce your materials, and use our printing industry contacts to get you the best quality and price.